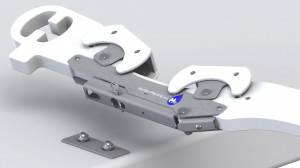 Hurley Dinghy Davits ™ are offered in a few different models, as these inflatable boat dinghy davit systems allow you to store your inflatable on your swim platform or dock giving you an easy launch and retrieval system for your hard or soft bottom inflatable.  No other boat dinghy davit compares.
Learn more about Our Boat Dinghy Davits »

Hurley Marine, Inc. has developed an array of light products including our patented Sea-Vue™ Trim Tab Lights, Underwater Boat LED Lights, Dock Lights & Drain Plug Lights for your vessel.  Hurley Marine is a marine lighting industry leader for underwater lights.
Learn more about Hurley Marine boat lights »
Muskrat Guards are designed for any boat that has a wet exhaust with a discharge opening of 4-3/4″ or larger.
Add protection today with Hurley Muskrat / Otter Guards »
FedEx Small Business Grant Contest Hurley Marine has entered the [...]
Online Dinghy Davit Worksheet Dinghy Davit Worksheet - When you are [...]
Hurley Makes & Sells AR-15 Gun Displays AR-15 Gun Displays. [...]
To anybody thinking of buying a dinghy davit – buy it from Hurley!
I finally had a chance to try out my H3O Plus this past weekend and it worked great for my Sea-Doo Spark.
I love our new lights.  My husband installed them in no time.  Thanks.
It's my first time buying on here and I'm very pleased! Cheers for your help again, very satisfied customer!!!!
Products like yours make people want to upgrade their boat quality to fit in such beauty … really thanks and all the best luck in sales.
No muskrat love here . . . thanks for the exhaust protection.
These RGB lights are easy to install, easy to use, very bright and offer a countless range of color combinations. Love the phone app,fun!
Hurley Marine – Dinghy Davits, Boat Lights & Accessories