Hurley Marine – Innovative Marine Products
As one of the worlds leading marine accessory manufacturers, and OEM, we know that the delivery of quality products is made possible by the talent and dedication of our talented staff.  At Hurley Marine, the professionalism of our entire team is an essential part of our continued success.  Our philosophy is all about professional entrepreneurship and providing the very best possible products and services to our clients.
It is our team's passion to provide you with high-quality goods that enhance your boating pleasure.  Over the years, we've worked hard to create one of the most popular brands in the U.S. for marine accessories and are now happy to share our products internationally. Our primary focus is on the people and increasing enjoyment, rather than on gaining huge profits.  We hope you give us the opportunity to improve a small part of your world.
Founder Captain Todd R. Hurley
Captain Todd Hurley, owner of Hurley Marine, not only has a lifetime of boating experience but has a diversified background as a Merchant Marine Captain, business owner, manager, and hands-on entrepreneur.
More than a decade ago, Todd had an idea for an easier way to secure the dinghy to the platform of a boat, making it easy to access, secure and launch.  At that moment, he conceptualized the Hurley Marine Davit and would soon reinvent on-deck dinghy storage for the entire marine industry  He now assists countless boaters globally.
Inspiration was the source of invention for Todd once again when he patented an innovative design for underwater lights that requires no holes in the hull.  Installation is quick and easy.  Prior to these Trim Tab Lights, consumers only had the option of  Thru-Hull Lights, requiring large holes below the waterline.  The old-style lamps had to be replaced from inside of the boat.  A major problem with the old design is that most boaters don't have the space in the engine room required to replace the bulb. The Hurley Trim Tab Lights eliminate this issue.  The lights are also fully adjustable using the trim controls.
The Drain Plug Light is yet another invention that yields great convenience.  It provides boaters an easy, cost-effective way to light up their sterns.  Installation is as simple as unscrewing your drain plug, slipping the power cord in, and screwing the Drain Plug Light into your garboard drain.  It is an easy way to enhance the ambiance during nighttime boating. test
Leslie Walch
COO
Leslie assists in the company's operations, with responsibility for business, not only domestically but globally as well. She also oversees the company's ongoing efforts in emerging markets.
Leslie has an unwavering commitment to customer satisfaction and is willing to help guide you and/or her staff with any questions.  She has a strong background in sales and knows the importance of customer satisfaction.  Watch for her in the Hurley Marine booth at many of the upcoming boat shows.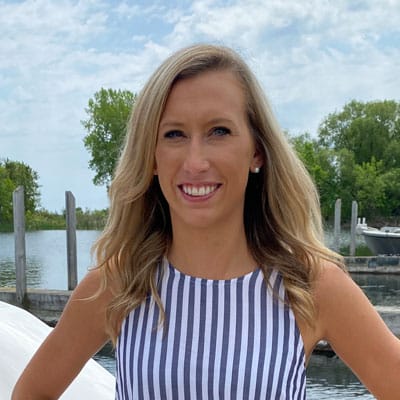 Lindsey McDonough
Global Sales Representative
Born and raised near the beautiful shore of Lake Michigan, Lindsey has taken the helm and stayed the course of her boating passion. She is able to help guide you on the right course for your davit needs. Please feel free to hail out to her, or her crew members, for professional advice and guidance for your boating accessory needs!
Chloe Deno
Global Sales Representative
Chloe lives on Little Bay de Noc and spends her summers on the water.  She came aboard here at Hurley Marine in 2021 and is taking sail to become educated in the marine industry.  Chloe can help to answer any questions you may have and help navigate you in the right direction.  Her excellent customer service skills will be sure to meet all your expectations.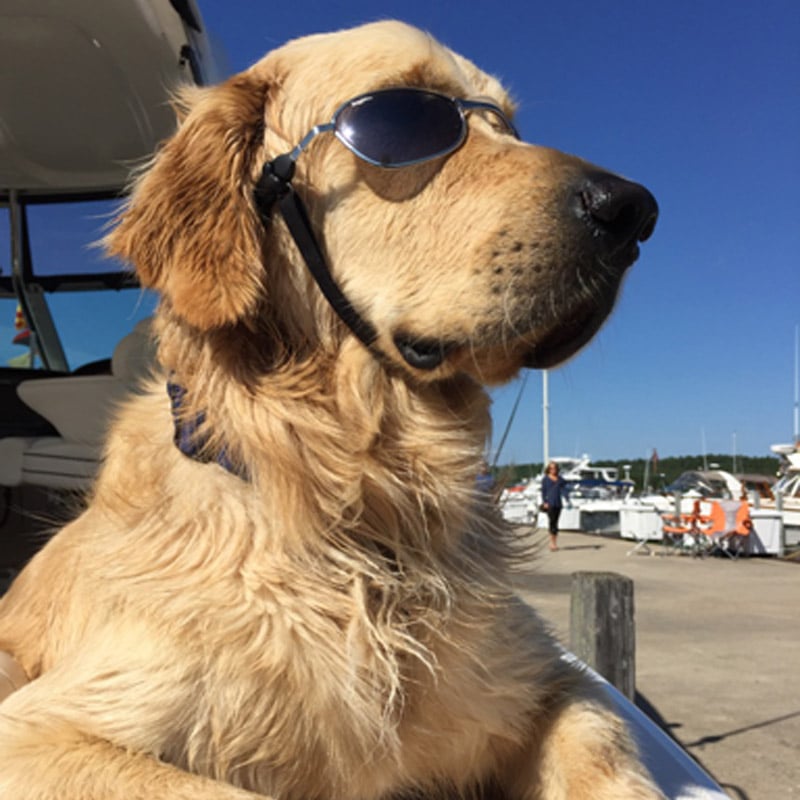 Docker
Entertainment Coordinator
"Docker" is ready to show off his "Doggles" should you meet him on the dock! He is a fun-loving Golden Retriever, who is always up for a petting session or a picture! Docker is still young, so enjoy watching him grow and travel with us.
Homeport, Escanaba, Michigan, is centrally located in the Upper Peninsula of Michigan on the beautiful waters of Green Bay's Little Bay de Noc.  Captain Hurley feels fortunate to have been able to cruise the Great Lakes.  It is on these lakes where he gained his experience and inspiration for most of his life. "I've been boating all my life," Todd says. "My ideas for new products often result from my experiences on the water."
Hurley Marine was created by a passionate boater solving boating needs.  The flagship products, the Dinghy Davits and Underwater Lights changed the status quo.  Hurley Marine is now an industry leader in providing boat accessaries.  We are confident that these products will continue to allow boaters to experience the type of nautical outings they desire and deserve.