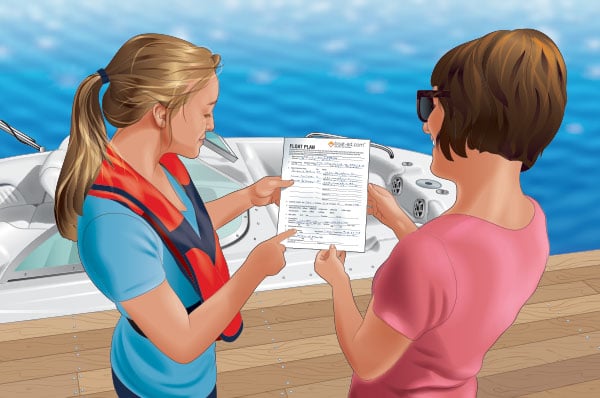 Boat Responsibly: Have a Float Plan

What is a Float Plan?
Boat Responsibly . . . Simply put, a float plan is a written summary of your boating itinerary.  Whether you plan to be gone for just a few hours on your boat or if you expect to take a longer cruise, it's a great idea to let someone you trust know where you expect to be and when you expect to return.  
Why create a Float Plan?
An emergency situation can happen anytime or anywhere, whether on an inland lake or a blue water passage.  If a situation occurs where a search effort must be initiated, having all your information in one place can make a difference in the outcome of rescue personnel finding you.
What to include in a Float Plan?
There is no standard form for a float plan. You can handwrite or type your own or even fill in a pre-printed form found at boating supply stores. Below are some items for you to consider.
Name and description of vessel: size, type, color, engine, etc., as well as registration number
Trip details: departure date and time, return date and time, planned route, destination, and proposed stops
Who's all going, ages, and any health issues
Emergency contact info for each person on board
Cellphone and/or satellite phone numbers
Safety gear on board, communication, navigation, and electronics onboard
You can also take advantage of a free form provided by the United States Coast Guard Auxiliary, Coast Guard Float Plan: http://www.floatplancentral.org/  Here, you can generate a customized template that you save on your computer to print or update/change when needed. (Note: Coast Guard does not accept float plans)
Filing a Float Plan
Before leaving the dock, a Float Plan should be filled out before departing on your trip. Leave it with family, a friend, or the marina.  If your plans should change, give your updated information to the person with whom you left your Float Plan.  This may sound like a lot of detail to provide but it can save lives, including yours.  If you don't arrive when expected, they can then contact the authorities who can check to make sure you are not in danger.  Time counts in a marine emergency.  Knowing your general location ahead of time can better their chances of finding and assisting you. It can be the difference between life, death, or a disability for life.
Check out our blog on Boating with Children